1.0 What Is IELTS?
IELTS means International English Language Test System. This exam covers the four skills of Listening, Speaking, Reading, and Writing to assess English proficiency for people in countries whose native language is not English.
IELTS was founded in 1989 by three ESOL organizations of the University of Cambridge (University of Cambridge ESOL), the British Council (British Council), and the Australian educational organization IDP.
There are 2 test formats that test takers can choose from Academic and General Training Module.
– Academic is a test format for those who want to enroll in university, academy, or graduate training programs.
– General Training Module is suitable for those who want to attend vocational courses, apply for a job, or immigration purposes.
IELTS certificate is a criterion for assessing English ability, recognized by more than 10,000 prestigious organizations in 140 countries, accepted by the majority of academics in Australia, UK, Canada, New Zealand, Ireland…
IELTS certificates will be valid for two years from the test results. In addition, IELTS is only calculated on a scale, and the board will issue a certificate based on the score you achieve.
2.0 IELTS Exam Structure
IELTS test structure of the Academic and General Training Module includes four parts: Listening, Reading, Writing, and Speaking. However, there will be some differences in some parts in terms of Reading and Writing.
The total test time of Listening, Reading, and Writing skills will be about 2 hours 45 minutes.
Listening: 40 minutes, 30 minutes is when the tape is played for the listening test and 10 minutes for candidates to fill in their answers on the Answer Sheet.
Reading: 60 minutes.
Writing: 60 minutes.
Speaking: 11-14 minutes.
The order of the first three tests is always Listening, Reading, and Writing will take place within one day, there will be no break between the test sections. In addition, the Speaking test will take place within seven days before or after the other test sections.
When taking the IELTS on a computer, the Speaking test will take place on the same day.
Listening
Exam time is 40 minutes (30 minutes for 40 questions and 10 minutes for candidates to complete their answers on the Question Answer Sheet).
This Listening test will be divided into four parts; each part will have ten questions, the candidate will be heard all the questions, and the difficulty will increase gradually with each part.
The test includes many different formats, such as information about a person, a conversation between two or more people. Therefore, candidates will be able to hear many pronunciations of many other countries and only hear them once.
In addition, you will also have time to read the questions and time to break recorded on the tape.
Part 1: Talking about normal situations in life (For example: renting a house, enrolling in school, or registering for activities…), the conversation is usually a question and answer session.
Part 2: Talking about instructive or introductory situations on a familiar topic (Example: school, tourist area, exhibition, ..).
Part 3: Talking about dialogue situations between at least two people; this is a more academic discussion (Ex: scientific research topic, thesis topic).
Part 4: It is a presentation on an academic topic.
Listening test will change the name "Section" to "Part," and in the opening part of the test in Part 1, the candidate will no longer hear the sample example.
In addition, in each lesson, the instructions for candidates will not mention the page number on that topic anymore. For example, open page 3 in the topic and look at… (effective from 4/1/2020).
Reading
Reading test will consist of 3 parts (40 questions), and the test time will take place within 60 minutes. Each section will have a paragraph about 1500 words long on a certain topic often quoted from articles, books, magazines…, and often a topic of discussion.
There will be a difference between the two forms of Academic and General Training in terms of reading content in this Reading test.
While Academic's reading passage is more like an essay, General Training is mainly about the topics in the regular test, including a descriptive passage.
Writing
Exam time will take place in 60 minutes, including two parts (you have to divide your time by yourself)
For Academic form (Academic)
Part 1: Candidates are usually asked to write a paragraph about 150 words long to describe and explain data, data on charts, tables, a process (This part you should complete in less than 20 minutes).
Part 2: Candidates will write a paragraph of about 250 words to give arguments or comments on an idea or issue. Candidates should provide specific situations and examples to support their points of view.
For General Training form (General Training)
Part 1: Candidates will write a letter of at least 150 words to someone to ask for information or explain a certain situation in life (This part should be completed in under 20 minutes).
Part 2: Candidates will write a paragraph about 250 words long to present a controversial opinion or comment on an opinion or issue. Candidates should give specific situations and examples to support their points of view.
Speaking
The normal Speaking test will take place in about 11-14 minutes, consisting of 3 parts. Candidates will chat directly with the examiner.
Part 1: You will answer some general questions about life, hometown, family, hobbies…
Part 2: The examiner will give you a request to talk about a particular topic; in the request, there will be suggestions so that you can easily develop your ideas. You will have 1 minute to think (in the process of thinking, you can make notes on scratch paper) and 2 minutes to answer. At the end of the answer section, the examiner can ask 1 or 2 more questions.
Part 3: The examiner will ask questions about the topic related to the issues that the candidate presented in part 2.
3.0 How To Calculate IELTS Score
The IELTS score scale is from 1 to 9; the test result sheet of the candidate presents the score of each skill and total score. The total score will be based on the average of the four skills and will be rounded to 0.5 (if the average score of the four skills has an odd number of 0.25, it is be rounded to 0.5, if it is 0.75, it is round to 1.0)
For Listening and Reading tests
Both Listening and Reading include 40 questions; the number of correct sentences will be calculated on a scale of 1 – 9.
In the Reading section, the number of sentences of Academic and General will have a slight difference.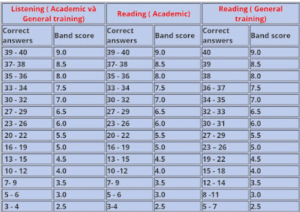 For the Writing test
The examiner will base on the criteria to score on a scale of 1 – 9.
– Task achievement
– Coherence and Cohesion
– Lexical Resource
– Grammatical Range And Accuracy
For the Speaking test
This part of the exam is also based on the criteria for scoring.
– Fluency and Coherence
– Lexical Resource
– Grammatical Range and Accuracy
– Pronunciation
4.0 IELTS Score Scale
IELTS does not have a pass or fail on the IELTS test result certificate will show the score of each skill and the total score on a scale of 1 – 9.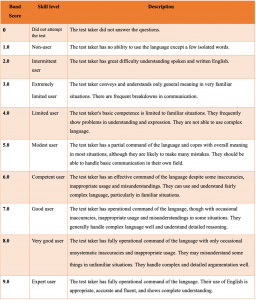 Xem thêm: IELTS Basics You Need to Know Part 2
Free IELTS Test With IELTS.TOOLS